2021W32 - WTF has happened in bitcoin this week?
Published on 08/15/2021 02:02 PM
This article was orginally published here: https://wtfbitcoin.substack.com/ by @saulabrm
TLDR: Bitcoin The Best Treasury Reserve Asset, Companies adopting The Bitcoin Standard, Brazil launches an ETF, New ETF filings, Miners Accumulating Bitcoin And Rigs, Lightning Use Sases Growing.

Hey there niblings, it's uncle Bam again, with a summary of the most insightful events in the Bitcoin space. Back at it again digesting all the important news for you.
A year ago, was a breakthrough for me. After stacking month by month while educating myself through podcasts and books, and realizing that technology and monetary network adoptions happen gradually then suddenly, the first public company decided to buy bitcoin for its balance sheet, and adopt The Bitcoin Standard.
MicroStrategy lead the institutions by making the the first announcement on August 11, 2020. And has continued to do so throughout the following 12 months.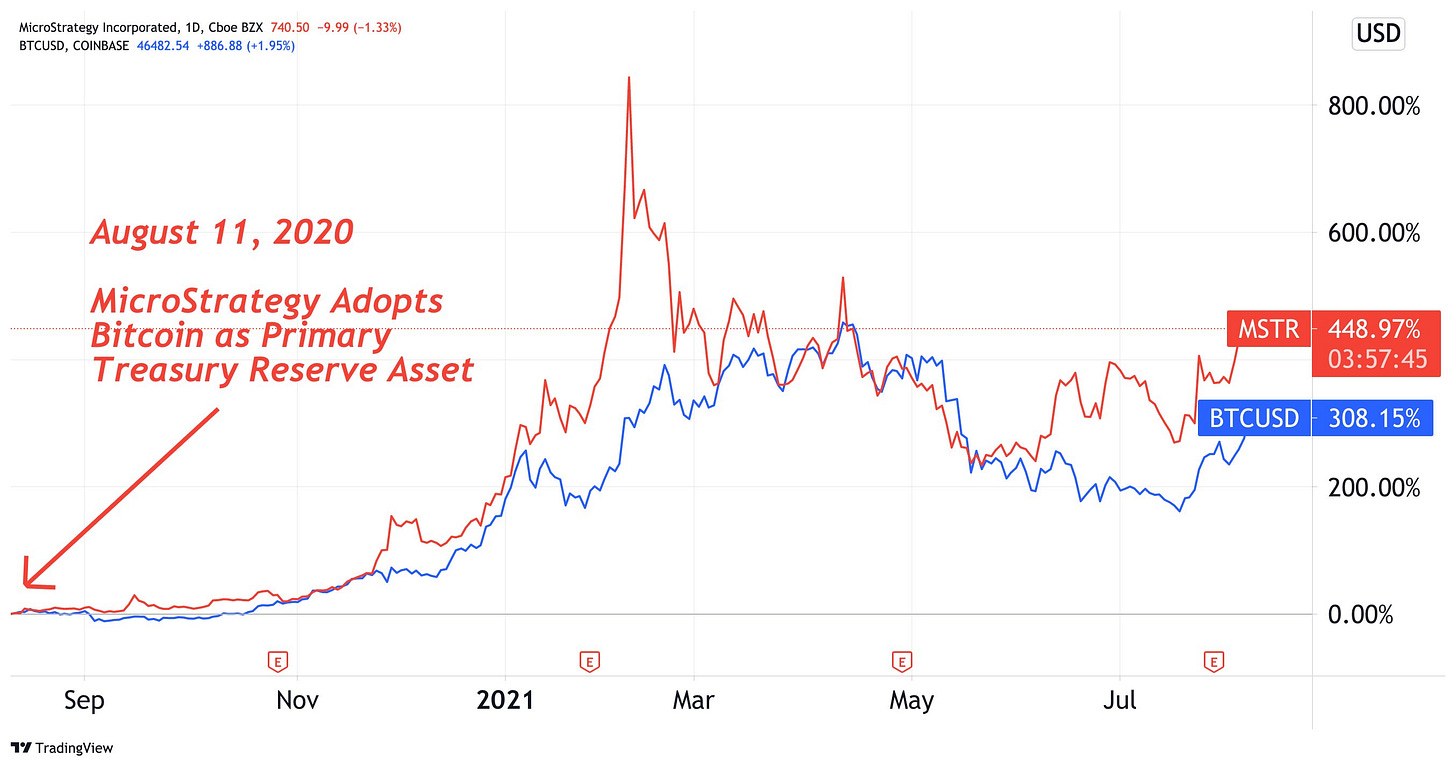 Since MicroStrategy adopted its Bitcoin standard, the company's stock has gained 452% while the price of bitcoin has increased over 300%, proving that bitcoin is indeed the best treasury reserve asset.
Often is good to take a look at the past and revisit how some "news or announcements" made us feel, think or speculate; and analyze how far or close we were to the truth after evaluating the impact it had.

Bitcoin has clearly grown in terms of price and adoption since then, and the trend doesn't seem to be stopped.
And this is how the week started.
1. Hashdex launched its newest bitcoin ETF in Brazil, another addition to the country's diverse bitcoin ETF menu and the first to be carbon neutral.
2. VanEck, global investment manager, files for a bitcoin ETF, for the second time.
3. Fidelity, mutual fund giant, has purchased 7.4% of bitcoin mining company Marathon Digital Holdings to be spread across multiple funds.
4. Metromile purchased $1 million worth of bitcoin. The company announced it will soon implement a bitcoin payment solution on its platform, and that it would purchase $10 additional bitcoin this quarter.
5. Neuberger Bermanto offer bitcoin futures to its $161 million commodity strategy fund, according to a filing with the Securities and Exchange Commission.
6. AMC, a U.S. movie theater chain, announced in a shareholder's call Monday it intends to accept bitcoin for movie tickets and concessions in 2021.
7. AC Milan and BitMEX have come together to announce a multi-year partnership that will see BitMEX's logo on the sleeve of the Rossoneri.
8. Compass, through the facilitation of the Human Rights Foundation, has committed to a one-year donation of $80,000 to Jon Atack.
9. Coinbase brought in over $2 billion in revenue and saw monthly transacting users grow 44%.
10. Venmo, the payments app, has launched a new feature for its credit card offering that allows users to convert cash-back rewards into BTC for free.
11. Jack Mallers, CEO of Strike, announced this week that his Lightning Network payments platform is launching a bitcoin withdrawal tab on its popular app
12. Unocoin, an Indian bitcoin exchange, will be allowing its users to purchase everyday goods such as pizza and coffee with bitcoin through in-app vouchers.
MINERS
13. Black Rock Petroleum Company shares more about his agreement with Optimum Mining Host to deploy and operate up to 1 million bitcoin mining machines.
14. London Stock Exchange-traded miner, Argo Blockchain, announced record profits in its Q2 earnings report, per a press release. The bitcoin mining firm now holds over 1,100 bitcoin worth $50 million.
15. CleanSpark, the software company that recently started mining bitcoin, has purchased an 87,000-square-foot data center to increase its mining capacity.

16. Bitfinex, Hong-Kong based exchange and 7th largest in trading volume, the has launched a new "Sat Mode" feature on its exchange platform, coming closer to "Sats the standard." The company is also one of the few exchange that has integrated the lightning network and it has been used largely for micro transactions:
17. Mawson Infrastructure Group, the Australian bitcoin mining infrastructure provider, bought 17,352 Avalon A1166 and A1246 machines from rig maker Canaan.
18. HIVE Blockchain ordered 1,800 new bitcoin miners from Bitmain Technologies.
FUNDAMENTALS
17. Along the past weeks, there has been many news of bitcoin miners allocating capital to increase their operations. In this bitcoin epoch, the current subsidy of each block (~10 min.) is 6.25 new bitcoin, or 900 bitcoin a day. As the price recovers its ground, there is a correlation of bitcoin miners, not selling their newly minted bitcoin. One could argue that they expect higher prices short term, or simply they understand what scarcity means. There is only 21 million bitcoin ever to exist, and there is a cost of opportunity of letting go of those precious sats.
As a summary note..
The adoption of The Lightning Network starts gradually then suddenly. In the last weeks we have shared images of the exponential growth in capacity of the network. But what is the potential of it? Where is the limit?
The Lightning Network has the potential of replacing both Visa and Mastercard, combined, with the capacity of reaching 25,000,000 transactions per second.
The biggest challenge, is its adoption, as it is not forced by any entity or institution to adopt it, until further countries come up with forced optionality as declaring it legal tender such as El Salvador.
For now we are seeing hints of adoption from as users discover its potential little by little:
By people wondering if "there was even people using Lightning", Nakadai and a group of bitcoiners, decided show the potential while bettering the life of a Victoria Vides, by donating to her and her fruits and popusas business some bitcoin through Lightning.

Have a great weekend niblings.
Stay humble & stack sats.
You want to contribute to WTFBitcoin?
Feel free to donate. But more importantly, share this with your friends and family..